Ways to Provide Feedback
If you have specific comments, questions or concerns for Student Government please email sg@tcnj.edu or use the contact form to reach out to your representatives.
---
Ways to Join Student Government
Elections
Student Government elections occur in the Fall and Spring.
During the Spring Elections, all elected positions are open.
During the Fall Elections, Freshman Class Council and Senator Positions are open, as well as any positions that were not appointed during the Spring Elections. 
FALL 2021 INFORMATION
The Fall 2021 Student Government Elections are approaching quickly and we want YOU to become a part of our organization. This upcoming fall election determines your Student Government representatives for the 2021-2022 academic year.
Student Government opens the doors to many opportunities at TCNJ and helps develop you into a student leader who can make a difference both on and off campus. Our current members have already taken on leadership roles by representing all TCNJ students and serving the campus and the community around us through different services and programs. Additionally, our members serve as a liaison between you and the administration to grant you a strong voice in our school's policy development. Grow as an individual and alongside a team of like-minded students, develop yourself professionally, and engage with faculty and staff to make decisions that improve campus and college life for you and your peers. Come and make your goals a reality!
The following positions are available for all students:
Senators:
Senator of Arts and Communications: 1

Senator of Business: 2

Senator of Education: 2

Senator of Engineering: 1

Senator of Humanities and Social Science: 3

Senator of Nursing, Health and Exercise Science: 3

Senator of Science: 4
Freshman Class Council (7 Representative Positions available!)
Delegate Members:
Applications accepted all-year round
If you are interested in running for one of these positions, it is a requirement to attend one of the Election Interest Sessions. These will be held in-person and via Zoom in a hybrid setting.
Sunday, August 29 from 5:30-6:30pm
Location: Education Building – Room 115
Wednesday, September 1 from 1:00-2:00pm
Location: Social Sciences Building – Room 105
Thursday, September 2 from 8:30-9:30pm
Thursday, September 9 from 8:30-9:30pm
Location: Social Science Building – Room 225
Below is a list of important dates to be aware of if you decide to run for an open position. These dates will be further discussed in detail during the information session.
All information submitted:
Monday, September 13 @ 5:00 pm
Attend at least one mandatory General Body meeting:
Wednesday, September 8 @ 3:00-5:00 pm

Wednesday, September 22 @ 3:00-5:00 pm
Campaigning begins:
Thursday, September 16 @ 8:00 am
Election Day:
Thursday, September 23 @ 8:00am-9:00pm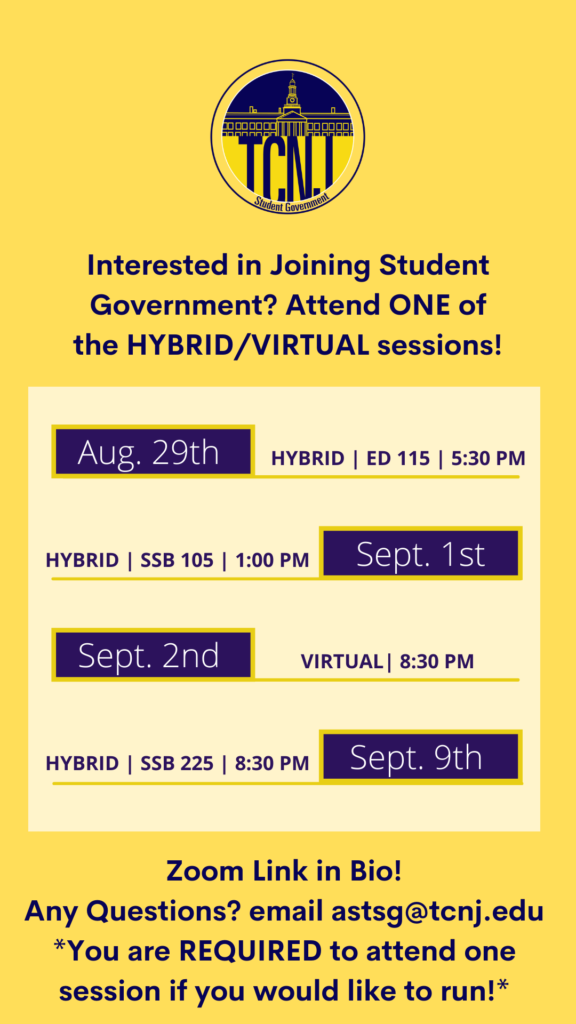 Delegate Members
You can become a general member of Student Government at any point during the academic year. To do this, fill out the form here. If you have any questions, e-mail sg@tcnj.edu.